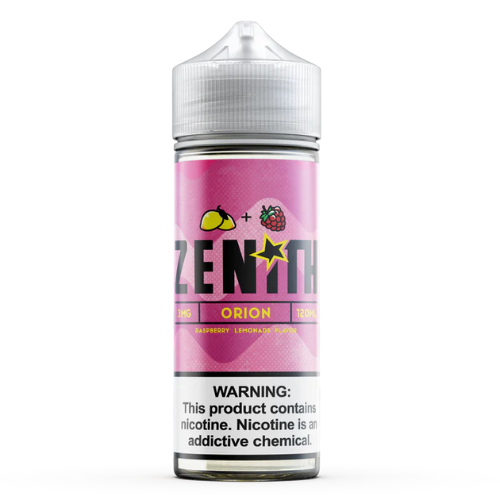 ZENITH ORION
---
Flavor: Orion 
Discover the origins of Zenith E-Juice with Orion, the breakthrough flavor that paved the way for a multitude of beloved e-liquid creations. Brace yourself for a delectable and harmonious blend of succulent raspberries and freshly squeezed lemonade, as Orion enchants your taste buds from the very first inhale.
Experience the natural sweetness of raspberries, hand-picked from the earth, as they enthrall your senses with each inhale. The exhale reveals a flawlessly crafted essence of polished lemonade, striking the perfect balance between tartness and juiciness.
Orion is widely acclaimed for its invigorating flavor and smooth throat hit, ensuring a truly refreshing vaping experience. Its clean and consistent taste makes it the ultimate all-day vape, delivering a sensation that never fails to captivate.
For those seeking an e-liquid that is lip-smacking, mouth-watering, and earth-shattering, look no further than Orion by Zenith E Juice. Prepare to be astounded by its unrivaled taste that will leave you craving more with every puff.