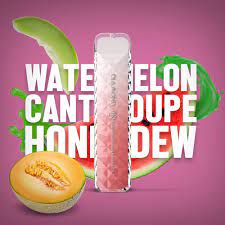 Air Bar Diamond Watermelon Cantaloupe Honeydew
---
Package Сontents: 1 Disposable Device
Air Bar Diamond Disposable Vape Features:

Disposable Device
5% nicotine
1 Device per package
1.8mL of e-liquid
380mAh battery capacity
Not rechargeable
Flavor: Watermelon Cantaloupe Honeydew
Introducing the NEW!! Air Bar Diamond Watermelon Cantaloupe Honeydew bar! Enjoy a uniquely light and crunchy texture from the combination of three delicious fruits - watermelon, cantaloupe, and honeydew. With each bite, you'll savor the distinct yet complementary flavors of all three!