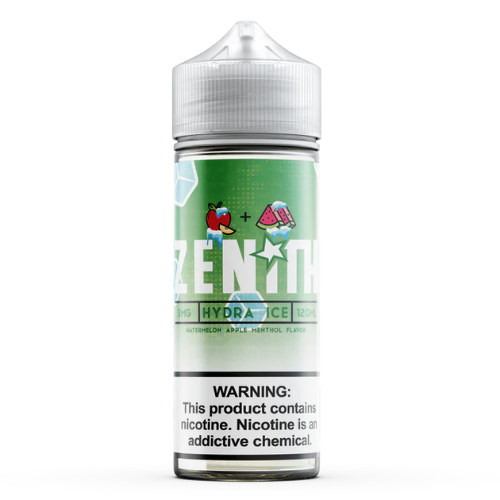 ZENITH HYDRA ICE
---
Flavor Profile: Apple Watermelon with Menthol
Prepare to be captivated by the perfect fusion of luscious watermelons and ripe apples in Hydra ICE by Zenith. This extraordinary blend combines the mouthwatering flavors of these two fruits to create an irresistibly refreshing candy fruit experience. And to take it to the next level, Hydra ICE incorporates a cool menthol touch.
With each inhale, Hydra ICE envelops your palate in the delectable taste of juicy watermelons, while the essence of ripe apples adds a delightful twist. The combination of these flavors creates a harmonious candy-like sensation that is both sweet and refreshing. The addition of menthol amplifies the overall experience, providing a cooling sensation that elevates the flavor profile.
Hydra ICE by Zenith is the ultimate choice for those who seek a revitalizing vape with a candy fruit twist and a touch of icy coolness. Indulge in this sensational blend of watermelons, apples, and menthol, and let the flavors transport you to a state of pure vaping bliss.