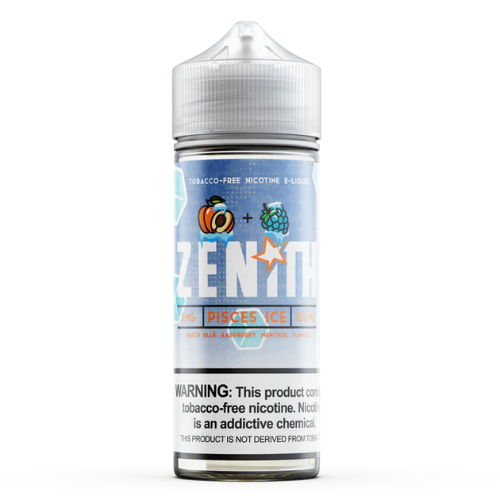 ZENITH PISCIS ICE
---
Flavor Profile: Peach and Blue Raspberry
Immerse yourself in the refreshing fusion of Peach and Blue Raspberry with Pisces ICE by Zenith. This special edition e-liquid combines the succulent sweetness of ripe peaches with the tangy allure of blue raspberries, enhanced by a cool menthol twist.
Pisces ICE delivers a revitalizing vaping experience that begins with the juicy flavor of fresh peaches, followed by the tantalizing notes of blue raspberry, and culminates in a satisfying icy menthol sensation. Each inhale will invigorate your senses, while the exhale leaves behind a refreshing chill that will keep you coming back for more.
Experience the harmonious blend of Peach, Blue Raspberry, and menthol with Pisces ICE by Zenith. This flavor combination is perfect for those who seek a cool and exhilarating vaping experience, ensuring that you can enjoy the delightful taste of these fruits year-round.