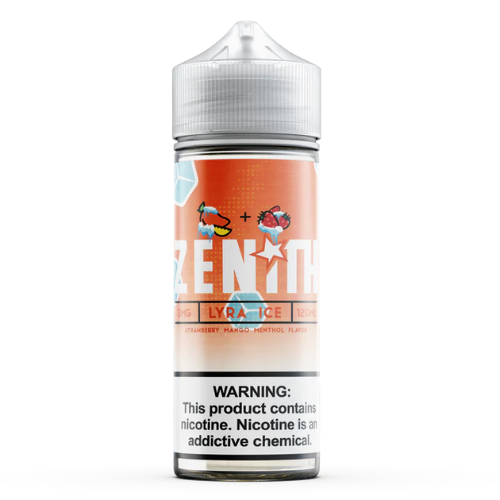 ZENITH LYRA ICE
---
Prepare to be enchanted by the unexpected combination that forms the tropical flavor profile of Lyra by Zenith E Juice.
Lyra is a delightful blend that brings together the sweetest and most fragrant mangoes sourced from the Eastern hemisphere, infused with a subtle splash of strawberry. The result is a captivating concoction that will transport you to a tropical paradise.
As you inhale, a distinctive and luscious mango note takes center stage, capturing your senses with its irresistible allure. Then, as the vapor swirls on your palate, Lyra seamlessly transforms into a tropical fruit medley, offering an exciting twist that is sure to delight. This flavor profile is reminiscent of sipping on refreshing summer cocktails while lounging on the beach, allowing you to embrace a vacation-like sensation no matter the time or place.
Lyra stands apart from other e-liquids in the Zenith E-Juice collection due to its rich and succulent taste. Every puff immerses you in a vaping experience that is as indulgent as it is satisfying, leaving you craving for more of its tropical bliss.
Embark on a journey with Lyra by Zenith E Juice and surrender to its alluring blend of mango and strawberry. Allow yourself to be whisked away to a sun-soaked paradise, where the richness of flavor envelops your senses and transports you to a state of pure vaping pleasure.